Sex Lives Documented And Recorded In A Brave New World Of Scandal
*MORE GOOD NEWS FOR REGISTERED SEX OFFENDERS*
DOES ISIS HAVE A 'RAPE HANDBOOK?'
16 YEAR OLD SCHOOL GIRLS SELL THEIR BODIES IN JAPAN
WHY WILL PUTIN POISON YOU IF YOU CALL HIM A PEDOPHILE?
NEW MISSOURI BILL LISTS SEX WITH LOBBYISTS & INTERNS AS 'GIFTS'
'GLEE' ACTOR CHARGED W/ PICS OF A 10 YEAR OLD IN SEX ACTS 
YOU SHOULD NEVER STEAL THE POLICE CHIEF'S SEX TOYS!
EVER WANT TO READ A GUIDE TO 'BILL CLINTON'S WOMANIZING?'
FEDS HUNTING FOR ISIS FIND CHILD PORN INSTEAD
SINCE JAMES DEEN SCANDAL, PORN COMPANIES UPDATE THEIR POLICIES
YOU'RE NOT THE ONLY ONE NAKED AT THE GRAND CANYON
THE BIONIC PENIS STORY IS REAL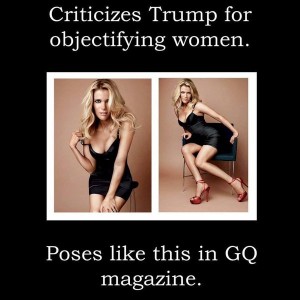 DONALD TRUMP vs. MEGYN KELLY
Is any of this arguing totally unprecedented? Has there ever been a front running, presidential candidate that declared war on a member of the press (within their own party – no less!) because of a foul disagreement entrenched in the battle of the sexes? Read this article in the Washington Post for a full recap of the recent history in the curious case of 'Trump vs. Kelly.'
And here's the question: If the roles were reversed and correspondent Trump asked presidential candidate Kelly if she was concerned at all about being viewed by her male voters as a bitchy, testosterone-degrading feminazi, wouldn't the American public also expect candidate Kelly to directly address such an obvious and personal attack, and/or would that candidate Kelly fully deserve it? We all know Trump acts and speaks in an unfiltered manner on a regular basis, and that he also often judges a female's merit mostly on her physical looks.
But the bigger question here is, wouldn't there at least be some opinions in the media defending both sides – including the candidate. There are plenty of man hating shows on T.V. attacking him, but not questioning her. Because in society in 2016, of course you can attack men without recourse – just watch the YouTube video of the hot and bitchy med student going crazy on the Uber Driver. Any questions? The men don't have any…
But don't take my word for it. Even CNN's Piers Morgan attempted to point it out on during a discourse about Ellen DeGeneres and humanitarianism.  Yes, ladies. Men realize they cannot win this argument today. That's why your stupid and lazy husband only reads this website when you're not home, and he's liable to close the page faster than if you were about to catch him watching porn again.
 TYGA & THE 14-YEAR-OLD 'GIRL'
Obviously, we all know who the Kardashians are. Which means we're now used to seeing semi nude selfies of an 18-year-old Kylie. So of course the 14-year-old Kendall is next, except we're conflicted by that, because the news tells us that's considered Child Porn (even though it's a selfie). And ultimately, it'll be up to the Kardashians to have to figure out how to skirt around this for another three and a half years. (Or will they?) Anyways, somewhere along the way we heard about this guy named "Tyga," and then there were rumors that Kylie was banging him while under age (which is why a quote unquote news article on the subject gives an appearance as somewhat relevant and/or credible.)
And then, some unknown 14-year-old model/actress/singer/whatever has gone public with Gloria Allred claiming she was taken advantage of by TYGA through direct messaging in Instagram – which proves that he's the next Jared Fogle/Bill Cosby/James Deen/Male Scumbag. And we're all supposed to cry into our tiny violins and Google more Kardashian stuff. Questions: do these claims also suggest a side bet that a legal team is preparing its case to sue OK! Magazine for civil damages? Time will tell.
But none of this is the real problem. THE REAL PROBLEM is that the OK! Magazine headline reads "TYGA IN LOVE WITH UNDERAGE TEEN!" As if he, too, was some ax wielding, teen sex predator. But you're not falling for that, are you? Because first of all, he's already dating a teenager, and second, she's a flirty teenager that in her own text messages laughs about how everybody thinks she's older. And let's not forget, the modelling industry has been peddling 14-year-olds in bras and panties since the fall of the Roman empire. Google "nude teen selfie" and start calling the hundreds of mothers to report those daughters for making and distributing their own selfies as 'child porn.' Why don't you start there and then decide whose at fault here. And yes, maybe stop listening to Tyga's 'music' – because it sucks bad enough on its own. Not because, as Kanye West put it, he's smart "because he got in early."
Share Sex Rap Recap Now



Follow Sex Rap Recap Now